In this blog post, I want to further explain their data management workflow, and how their data get exposed to different kind of users.
Two Classes of Users
Let's take a look at their data ingest/management/publishing workflow: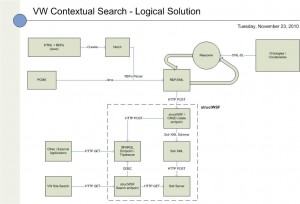 As you can see, all their data get collected, transformed and imported into
structWSF
. As I explained in my
previous blog post
, they are using structWSF to manage all their RDF data and access all the functionalities from the different web service endpoints.
However, how the data get exposed to the users is not that clear. In fact, it depends on the classes of users. A user can be multiple different things: it may be a person, it may be a computer software, it may be an organization, etc. However, there are two general classes of users:
Public users, and
Private users
Public users are users that have no direct relation with Volkswagen and that have no access to their internal network. Private users are generally internal departments or some internal software applications that have direct access to the structWSF instance.
Private Users
Private users generally have access to all structWSF web service endpoints. This means that all structWSF functionalities are accessible to them by querying the endpoints.
Two different kind of private users are specified in the use case's schema:
Volkswagen Site Search
Other / External Applications
The Volkswagen site search is a software application that uses the structWSF Search endpoint to search, filter and expose their data to their users (the people who perform searches on the Volkswagen UK website).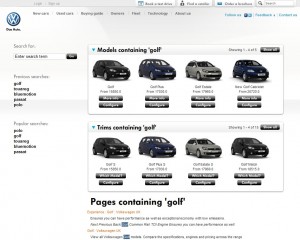 The other/external applications are software applications that have access to the structWSF instance. These are generally internal applications that run in the same network. One of these applications is an internal software that exports all the RDF data from the
structWSF SPARQL endpoint
, and import it into
Kasabi
.
These are two examples of software applications that Volkswagen created around the structWSF web services to re-purpose, re-contextualize and re-publish their RDF data.
Public Users
There is currently two kinds of public users of this new Volkswagen Semantic Platform:
People, and
Software applications
Two interfaces have been made publicly available for each of these kinds of users:
A website search engine page for people, and
A SPARQL endpoint for software applications
When a person user reaches the website's search page, the search query get sent to the structWSF Search web service endpoint. The result is then returned to the engine, get templated and displayed to the person user.
A SPARQL endpoint is accessible to the software applications. This endpoint is hosted by the Kasabi information marketplace. Volkswagen chooses to export everything from their structWSF into Kasabi to outsource the maintenance of their public SPARQL endpoint.
Unlock the Power
As we saw in this blog post and in the W3C use case, all Volkswagen UK data is internally managed by structWSF; however they are not locked into that system. They can easily communicate with external services to add new functionalities to their stack or to take business decision such as outsourcing the management of some publicly accessible data access endpoints.
This is an important characteristic of their design:
By choosing semantic web technologies (such as structWSF), techniques and concepts (such as their Vehicles OWL Ontology and RDF), they are not locking themselves into a specific framework. They can easily communicate with external systems and applications. This means that they can quickly adapt their system to their constantly changing needs.

Conclusion
I wrote this blog post to further explain Volkswagen's data management workflow. I wanted to make sure that people were understanding the role that structWSF has in this use case, and the ecosystem it operates in.