Mike Bergman just published the second part1 of his series of blog posts that summarize the evolution of the Semantic Web in the last decade, and how our experience of the last 7 years of research in that field has led to these observations.
The second part of that series is: Big Structure: At The Nexus of Knowledge Bases, the Semantic Web and Artificial Intelligence.
He continues to outline some issues with the Semantic Web, but more importantly how it fits in a much broader ecosystem, namely KBAI (Knowledge Based AI). He explains the difference between data integration and data interoperability and how these problems could benefit leveraging a sub-set of the Artificial Intelligence domain related to data interoperability: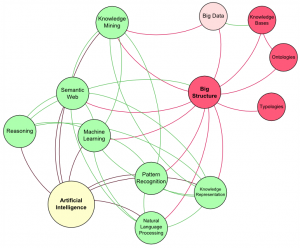 These two blog posts set the foundation and the direction where
Structured Dynamics
is heading in the coming years and where we will focus our research projects and how we will help our clients with their data integration and interoperability issues.
We welcome hearing from you!